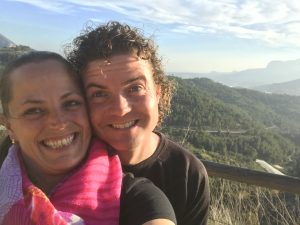 Hi, we are Ester & Bram.


Sun Sea Sleep started in 2015. In 2017 we took over Sun Sea Sleep and became the proud owners of our first own business. At first this was a very luxurious accommodation on Curacao, a tropical island in the Caribbean Sea. We have lived over 5 years on Curacao and our 3 children (Isa, Sam and Che) are born there. The corona crisis made an end to our island life and we were forced to return to Europe.


Luckily we could continue our dream in 2021, on a different location, almost 7.500 km of where we originally started. Now we exploit Sun Sea Sleep on the Costa Blanca and we absolutely love it here. What we experienced for many years is that we really like the perfect combination of private and business. Our Bed & Breakfast and apartment rental are suitable for young and old. Here everyone is welcome and there is something for everybody. Plus that we do exactly what we want to do and what makes us happy: to make sure our guests experience a fantastic vacation and enjoy our accommodation to the max.
The following things make life for us here at Sun Sea Sleep really ideal.
The peace: it is wonderfully quiet, you can hear the birds singing and you are still very near the tourist hotspots.
The view: the view here is never boring. You literally see the whole Pop valley, with it's mountains, almond trees en vineyards. On one side you have the valley, on the other side the Mediterranean Sea, isn't that perfect? And the sunset at Sun Sea Sleep is really fascinating.
The charming cosiness (gezelligheid in Dutch): we enjoy when our guests enjoy, and luckily that is pretty much all the time. Guests with different nationalities stay here and precisely the charming cosiness together makes the difference. Here everyone has enough privacy and they still come closer to each other, because together it is even more enjoyable.
With pleasure we would like to share our paradise with you. Whether it is with a cocktail at the pool, at the extensive breakfast on the terrace, or during one of our BBQ or Paella nights at the bar, here it is fantastic. Hopefully we'll meet you at Sun Sea Sleep!